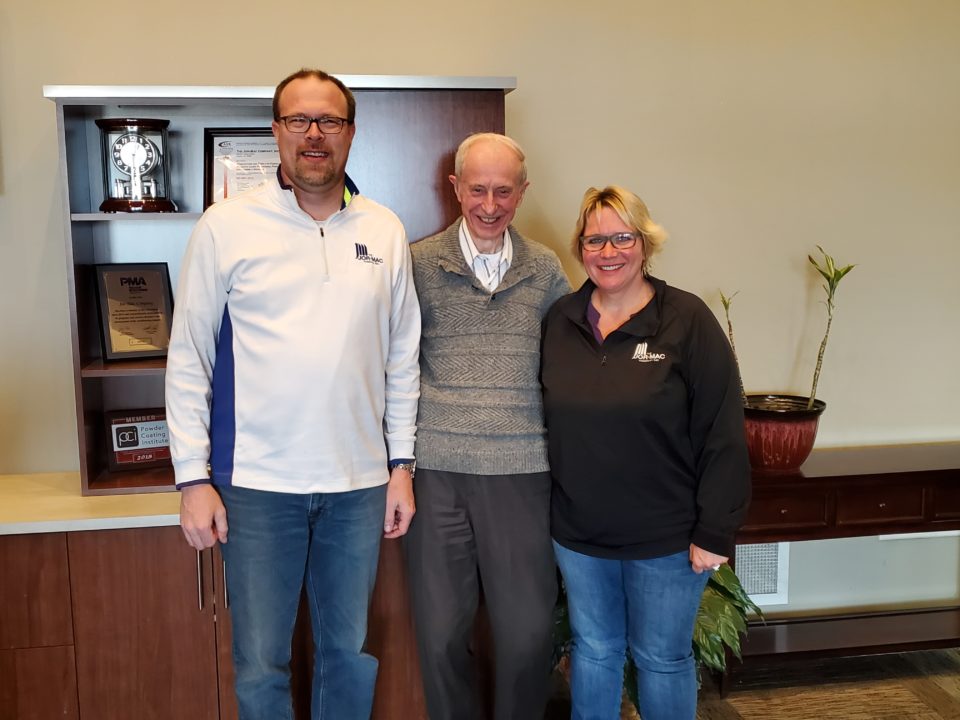 On March 23rd, 2019; a very significant milestone will be reached for The Jor-Mac Company's most senior employee! Jimmy Dieringer will reach 55 years of service with us. For this astounding anniversary, we interviewed Jim and asked him to tell us his story.
Q: What was life like for you before Jor-Mac?  
A: Prior to starting at Jor-Mac, I worked in the local feed-mill (Fredonia) tossing 100 pound bags of feed. I was then drafted into the army for 2 years where I was stationed on the 2nd Missile Command. Once out of the army, I went back to the feed-mill, but quickly left to join Metal Spinners in Milwaukee.
Q: Tell us about your story at Jor-Mac and the changes you saw.
A: I started here in 1964. My uncle worked here and he suggested that I work here too. There was no application that I filled out; I simply came to work and started. They had me fill out an application AFTER I started. I worked in the shop for the first six years doing all sorts of general things. When I told them I wanted more money, I was taught how to stick weld. And boy, the first job that I ran was TERRIBLE! Someone had to redo all of the welds. Heliarc welding, followed by wire welding were the next jobs I learned. I focused on making steel gas tanks that were lined with lead coating and that was all done with a stick welder. After all that, I made my transition into the office where they asked me to do estimating. Back then, we didn't have computers or calculators, so estimating was all done using a slide rule. I even kept a small six inch slide rule in my pocket that I took to customers to measure parts for them onsite. After just three years of estimating, I was placed in a sales role. When given this role, the boss told me, "We will put you on the road and try it." I lasted for 25 years in that role! When new ownership came in, my role changed again and I have remained in estimating.
There were many changes that I saw during my time at Jor-Mac. They started as a metal spinning company. I tried that and it ended very badly with all the material raveling. There have been so many technology changes, with production and office equipment. We used to have a row of mechanical punch presses; now there isn't any punches. The first CNC machine that Jor-Mac purchased was a Wiedemann Quick Change machine that fit a 60 x 60 blank. They kept on progressing forward from there!
Q: What has made you stay here for 55 years? 
A: I think about that often! One of the things I remember, is back when I started working here, I made $1.92 per hour. I got the urge to move on, and applied at a different company. Jor-Mac offered me $0.25 per hour to stay. That was a lot of money for back in that day! When the urge came about to move on; Jor-Mac would train me to do more. When I was in Sales, I saw how many companies out there needed sales people. As I reflected on that decision, I was reminded on how well Jor-Mac treated me and I stayed. I really enjoyed working for my managers.
Q: This anniversary is quite an impressive one! Most people are thinking about retiring or have retired at this point. What are your thoughts about retirement?
A: When the time came for me to start thinking those thoughts, I asked myself, "What would I do?" I couldn't and still can't answer that question. I want to continue working. I enjoy the interaction with people. If I had a high-pressure job, I probably wouldn't continue to work. There's a lot of great people here that you work with and you work for!
Q: What is the coolest thing that you remember about Jor-Mac?
A: When I worked in estimating, either 1971 or 1972, Jor-Mac rented a brand new calculator! It was an electric one that had two memories on it. After six months of using this, it was taken away. If Jor-Mac would have bought it, it would have ran them $1,200! For a calculator! Back to the slide rule I went.
Another neat memory for me is when Jor-Mac took delivery in 1976 of a brand new 200 ton punch press. It was painted red, white, and blue with the year 1776 printed on it; to celebrate our great country's 200th birthday.
Q: What advice do you have for up and coming generations?
A: Take pride in what you do! When you're working, stay working. Learn from your employer. Don't goof off and just do your job. It's so important to do that, especially in work situations. Stay healthy and eat healthy; relax and expand your mind – don't bog it down with TV. Believe in God.
Congratulations Jimmy!